Anàlisi de les xarxes socials històriques.
Exemple il·lustratiu d'anàlisi de moviment migratori

La creació de xarxes socials històriques basades en dades demogràfico-històriques permetran estudiar els moviments migratoris o les formacions familiars dinàmicament, en el temps i en l'espai. A tall d'il·lustració, s'ha preparat manualment un cas d'exemple de trajectòria migratòria. Els germans Ordal (Pau i Joan) de Sant Feliu de Llobregat que amb el temps s'assentaren al municipi d'Hospitalet de Llobregat, separats en línia recta per una distància de poc més de 5 kilòmetres.

Pau i Joan eren 2 dels 7 fills de Joan Ordal Coca, jornaler, i d'Antònia Amat, ambdós al padró de 1857 declaraven tenir 43 anys. Al padró d'habitants de 1889 d'Hospitalet de Llobregat, 22 anys més tard, trobem un Josep i un Pau Ordal Amat encapçalant cada un d'ells una llar diferent en el municipi. Pau a 1867 contragué núpcies amb Josefa Soler Mullarch a la parròquia de Santa Eulàlia d'Hospitalet de Llobregat però portava residint al municipi des de 1862. Aquest podria ser un exemple de mobilitat per qüestió laboral. A 1889 ja tenien dos fills, en Pau i na Dolors.

L'altre germà, en Josep s'havia casat amb Teresa Llamusí Mullerach a 1871 a Sant Feliu de Llobregat, any que declarà d'inici de la seva residència al municipi en qüestió. Aquest podria ser l'exemple d'una migració per matrimoni. A 1889 ja tenien 4 fills, n'Antònia, na Carme, en Josep i en Jaume. Cal a dir que Josep en el padró de 1857 a Sant Feliu declarà haver nascut a 1843, en canvi al padró de 1889 ho féu a 1847. Val a dir que la declaració d'edats en la documentació històrica és una de les variables menys fiables a tractar ja que el calendari que marcava les festivitats familiars i populars era el religiós.

Una dada més que es pot testimoniar gràcies a l'onomàstica és el fet que les esposes d'ambdós germans podrien ser parentes, més concretament cosines per línia materna, ja que comparteixen un segon cognom poc freqüent en l'onomàstica catalana, Mullerach. D'aquesta manera, la concomitància entre padrons permetria teixir l'entramat social del passat per transcendir l'espai geogràfic que abasta el padró que és el municipi.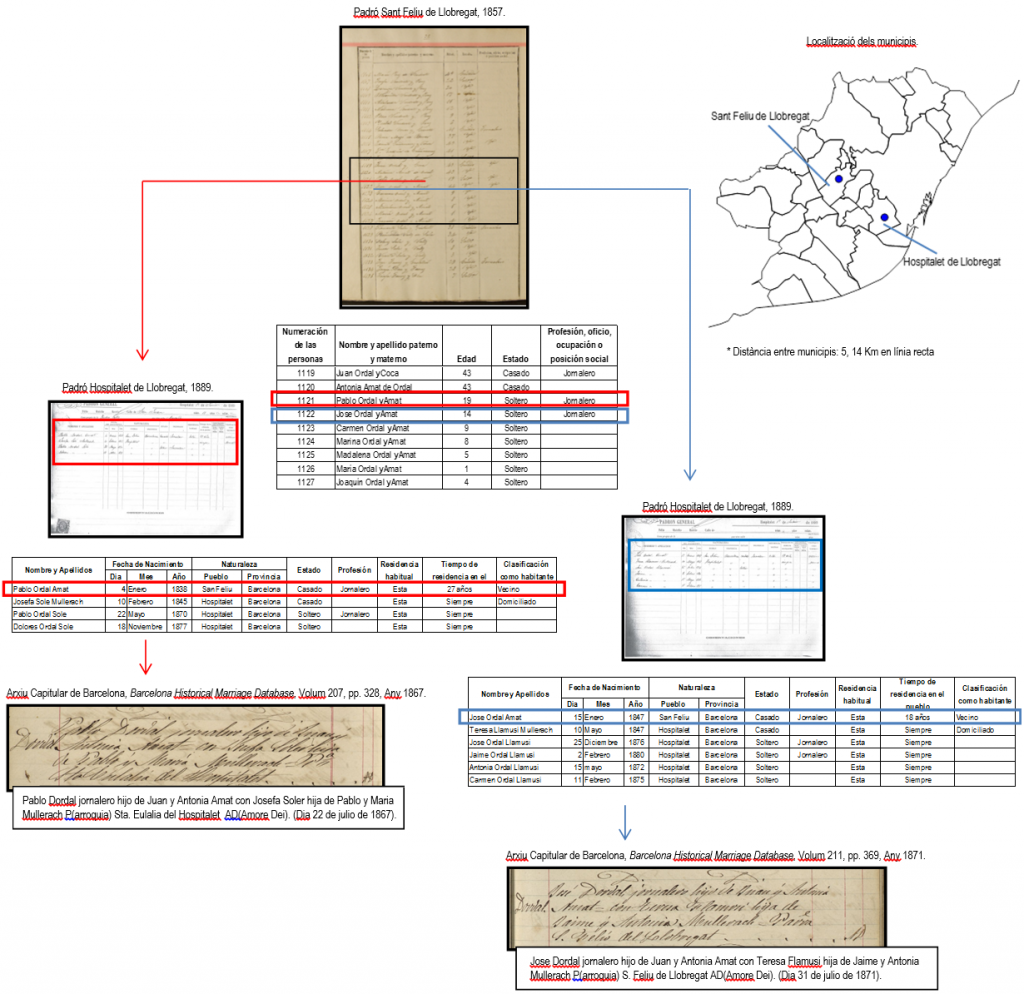 PUBLICACIONS
A.Fornés, J.Lladós, J.M.Pujadas-Mora (in press, 2019). "Browsing of the Social Network of the Past: Information Extraction from Population Manuscript Images". In "Handwritten Historical Document Analysis, Recognition, and Retrieval – State of the Art and Future Trends". Editors: Andreas Fischer, Marcus Liwicki, Rolf Ingold. Publisher: World Scientific, Series in Machine Perception and Artificial Intelligence.
Pujadas-Mora, J.M.; Brea-Martínez, G; Jordà, J.P.; Cabré, A.The apple never falls far from the tree: Siblings and intergenerational transmission among farmers and artisans in the Barcelona Area in the 16th and 17th centuries. The History of the Family. 2018. Available on-line at: <https://doi.org/10.1080/1081602X.2018.1426483>.
J.I.Toledo, M. Carbonell, A.Fornés, J.Lladós. Information Extraction from Historical Handwritten Document Images with a Context-aware Neural Model, Pattern Recognition, volume 86, pages 27-36 (ISSN 0031-3203), (https://doi.org/10.1016/j.patcog.2018.08.020), 2019.
Brea-Martinez, G.; Pujadas-Mora, J.M. Transformación y desigualdad económica en la industrialización en el área de Barcelona, 1715-1860. Revista de Historia Económica / Journal of Iberian and Latin American Economic History. 36 – 2, pp. 241 – 273. 2018. ISSN 0212-6109 DOI: 10.1017/S0212610917000234
P.Riba, J.Lladós, A.Fornés, A.Dutta. Large-scale Graph Indexing using Binary Embeddings of Node Contexts for Information Spotting in Document Image Databases. Pattern Recognition Letters, vol.87, pp.203-211, (doi:10.1016/j.patrec.2016.06.015), 2017.
M.Carbonell, M.Villegas, A.Fornés, J.Lladós. Joint Recognition of Handwritten Text and Named Entities with a Neural End-to-end Model. In 13th IAPR International Workshop on Document Analysis Systems (DAS), pp. 399-404, 2018. https://doi.org/10.1109/DAS.2018.52
J.Chen, P.Riba, A.Fornés, J.Mas, J.Lladós, J.M.Pujadas-Mora Word-Hunter: A Gamesourcing Experience to Validate the Transcription of Historical Manuscripts. In 16th International Conference on Frontiers in Handwriting Recognition (ICFHR), pp.528-533, 2018. https://doi.org/10.1109/ICFHR-2018.2018.00098
Pujadas-Mora, J.M.; González-Murciano, C.; Cabré, A. Marrying with affines in the 19th century. Findings from the Barcelona historical marriage database. Izvestia of the Ural federal university. Series 2. Humanities and Arts (forthcoming). 2018. ISSN 2227-2283.
Brea-Martínez, G.; Pujadas-Mora, J.M.Estimating Long-Term Socioeconomic Inequality in Southern Europe The Barcelona Area, 1481-1880. European Review of Economic History. 2018. ISSN 1361-4916 DOI: https://doi.org/10.1093/ereh/hey017
P.Riba, A.Fischer, J.Lladós, A.Fornés. Learning Graph Distances with Message Passing Neural Networks. In 24th International Conference on Pattern Recognition (ICPR), pp. 2239-2244, 2018. (DOI: 10.1109/ICPR.2018.8545310)
L.Kang, J.I.Toledo, P.Riba, M.Villegas, A.Fornes, M.Rossinyol. Convolve, Attend and Spell: An Attention-based Sequence-to-Sequence Model for Handwritten Word Recognition. German Conference on Pattern Recognition (GCPR), (accepted), 2018.
TESIS DOCTORALS I TREBALLS DE RECERCA
Tesi doctoral "Social reproduction and economic inequality in the Barcelona Area, 15th – 20th centuries" per part de Gabriel Brea. Direcció: Joana Maria Pujadas-Mora i Anna Cabré, doctorat de Demografia de la Universitat Autònoma de Barcelona (UAB) (16/11/2018).
Treball Final de Grau "Connection of a historical network with Wikimedia community" de Rafael Diaz. Supervisió: Alicia Fornés i Joana Maria Pujadas-Mora, Escola d'Enginyeria, UAB (9/7/2018).
Treball Final de Grau "Transcription of manuscrits with image processing techniques and gamesourcing" per part de Jialuo Chen. Supervisió: Alicia Fornés, Escola d'Enginyeria, UAB (07/2018).
Treball Final de Grau "JumpWords: juego Android de validación de datos con técnicas de gamesourcing" per part de Adrián Mengual. Supervisió: Alicia Fornés, Escola d'Enginyeria, UAB (02/2019).
Treball Final de Grau "Record Linkage aplicado a censos demográficos" per part de Valentín Vinagre. Supervisió: Alicia Fornés, Escola d'Enginyeria, UAB (02/2019).