This section includes the media corresponding to the project
VIDEO DEMOSTRATIVE OF THE e-CROWDS App
The aim of this App is to browse in the collection of the LLIBRES D'ESPOSALLES (MARRIAGE BOOKS) using part of an image as a query or text.
VIDEO DEMOSTRATIVE OF THE AUTOMATIC TRANSCRIPTION AND FORM FILLING OF THE LLIBRES D'ESPOSALLES (MARRIAGE BOOKS)
The aim of the project is to fill in an automatic way the Barcelona Historical Marriage Database (BHMD). To this purpose different computer vision techniques on the domain of Document Analysis has been developed.
At a first step the process has to detect the different lines and records of the image to help the recognizer to identify the context of the words.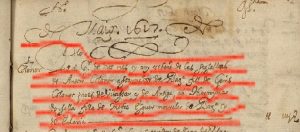 The Line Segmentation Step
Then the process recognizes the different text lines using a language model based on pairs of words, which is call bigram languaage model

The Handwritten Text Recognition Step
After this step, we put into correspondence all the records trying to find structures that are repeated among them. These structures gives as the different categories inside a record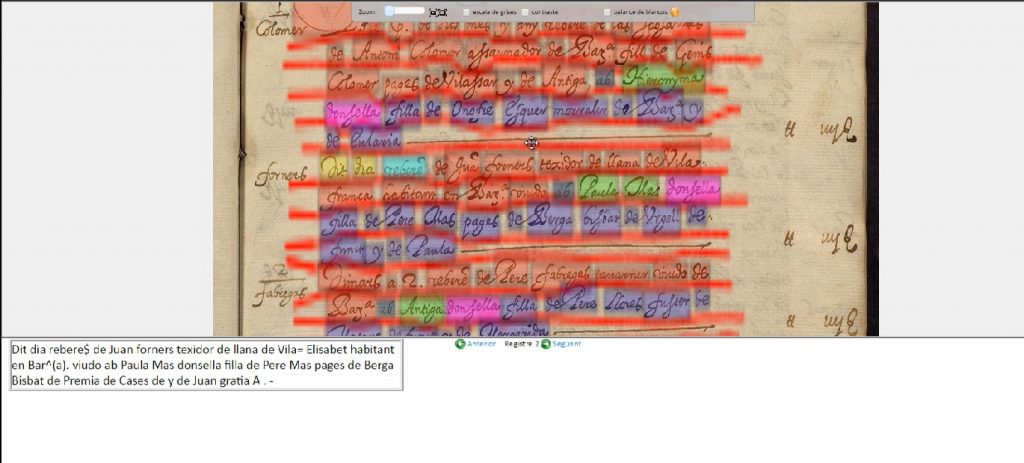 The Record Alignment Step
Finally, the database is filled taking into account the informations of the previous steps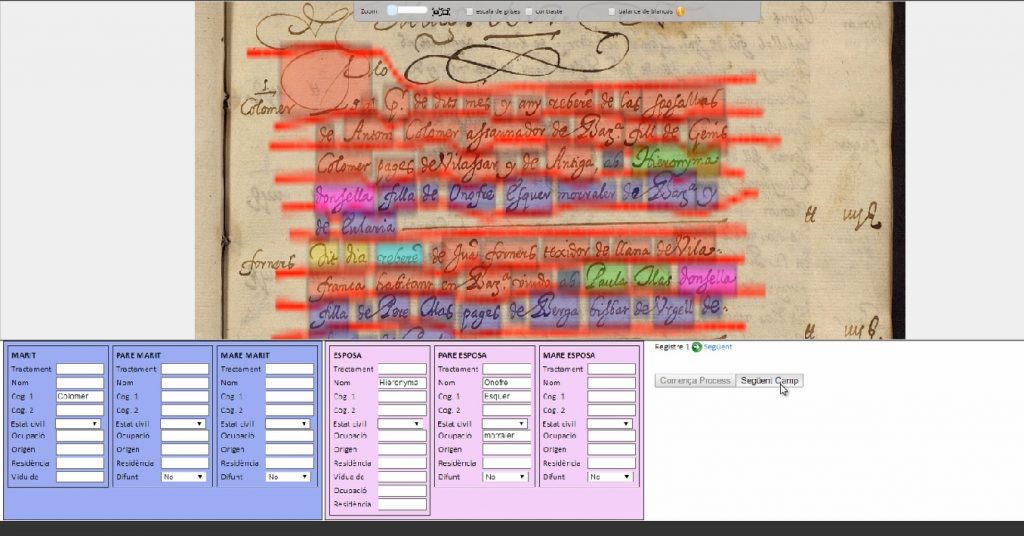 Automatic Form Fill
CEREMONY OF PRESENTATION OF THE DIGITALISED INDEXES OF THE LLIBRES D'ESPOSALLES (MARRIAGE BOOKS) TO THE CATHEDRAL ARCHIVE

A volume of an Index of the Marriage Books and one of the new volumes
On 10 December, some members of the research team for the project Five Centuries of Marriages-5CofM (ERC_Advanced Grant), Anna Cabré (principal investigator of the project), Joana M. Pujadas and Eulàlia Camps (representing members from the UAB and CED), Josep Lladós (director, Computer Vision Centre-CVC) and Joan Mas (on behalf of the CVC), presented to Monsignor Josep Baucells and Immaculada Ferrer of the Chapter House Archive of the Barcelona Cathedral the first batch of digitalised indexes of the Cathedral's Marriage Books.

The research team with Imma Ferrer in the room in which the digitalised indexes can be consulted

The research team with Monsignor Josep Baucells and Imma Ferrer,
showing the printed volumes of the digitalised indexes
The main aim of the 5CofM project has been the creation of the Barcelona Historical Marriage Database (BHMD), which contains all the information about 610.000 marriages in more than 250 parishes of the Diocese of Barcelona between 1451 and 1905. This information was obtained from the 291 Llibres d'Esposalles (Marriage Books) conserved in the Chapter House Archive of Barcelona.
On the basis of the Barcelona Historical Marriage Database, the research team has created an app which enables fast searches, by means of the husband's or wife's surname, of the volume and the page on which the marriage records appear. All the Marriage Books have been digitalised. Research is therefore faster and easier, while the original Marriage Books are conserved.
Anna Cabré, Joana M. Pujadas and Monsignor Josep Baucells, speaking about the project

This app related with the Barcelona Historical Marriage Database, together with the indexes in paper format, is available to those people who are interested in the Barcelona Cathedral Archive.The presentation ceremony was recorded by video. Link